SJYS Outreach Worker, Kylie Wanganeen, is a proud Kaurna and Narungga Woman, committed to supporting community and supporting young people out of crisis.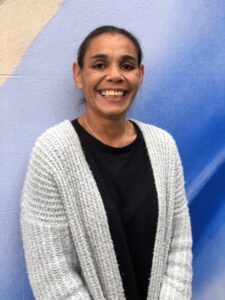 Housing crisis can be particularly acute for young Aboriginal people, who are often dealing with a range of complex issues. Kylie has a deep understanding of these issues, and draws from her own lived experience to offer insight, empathy and practical support. Young people and colleagues alike are inspired by Kylie's positivity, and her capacity to always focus on solutions rather than problems.
Many of the problems experienced by the young people Kylie works with are exacerbated by their disconnection from community and culture. As a knowledgeable, committed and passionate advocate for the importance of culture, Kylie is able to educate and guide these young people to a place of understanding and pride. She is also a generous educator for her colleagues, always welcoming questions and happy to share her own experience and knowledge.
Most significantly, Kylie is an exceptional role model for young people and walks beside them
as a trusted ally and guide. She shares their troubles and successes, always offering guidance, support and a smile.
Kylie regularly goes out of her way to meet with young people who she may not be directly working with, in order to facilitate trust and positive relationships with the organisation. Kylie has facilitated the setting up of informal youth-led groups to break down barriers between young people and St John's Youth Services, and to develop the self-esteem and confidence of group participants. Through her own behaviour, Kylie demonstrates how to show respect, and engage in open conversations.
As well as contributing to the establishment and implementation of the St John's Youth Services 'Reconciliation Action Plan', Kylie is also involved with a range of external community groups, such as the 'Grannies Group' based at Port Adelaide. Kylie was integral to recruiting this group of Aboriginal community leaders to work collaboratively with St John's Youth Services, to increase the organisation's capacity to deliver culturally appropriate services. She is also involved with the Aboriginal Youth Reinvestment Task group, being run in conjunction with the Red Cross.
Kylie welcomes all new Aboriginal workers to offer support in their new roles, and mentors Aboriginal employees who are young or new to the sector. Kylie's advice has been especially valuable for young Aboriginal workers who have struggled with the challenges inherent in managing personal and professional boundaries when they are working within or close to their own local communities or kinship groups.
For Kylie, striving for excellence is not directed by professional ambition. Rather, she is driven by a determination to provide the best possible support for young people, and by her passionate belief in the vital importance of nurturing young people's connections to culture and community. She is always seeking opportunities to enhance and improve the way services are delivered to the young people she supports, and thus improve their outcomes. Because of her strong belief in the importance of community and culture, the strategies Kylie develops are often focused on developing positive relationships that inspire communication and healing.
Kylie is well known for her friendly and cheerful demeanour, extensive cultural knowledge and generosity. She is regarded by her peers as a leader in the Aboriginal community, and is highly regarded for the work she has done in connecting community members with St John's Youth Services. Cultivating these connections has led to a far greater level of collaboration between the organisation and wider Aboriginal community, leading to increased understanding and greater opportunities for Aboriginal young people in our services.
As an Aboriginal woman intrinsically connected with and committed to local Aboriginal communities, Kylie often has to navigate delicate issues around confidentiality and privacy. This is especially important for the young people she works with, who often have complex personal histories that feature familial conflict or estrangement. Without the trust of both young people and wider Aboriginal community, it would be impossible for Kylie to effectively support young people or to retain the strong community connections that facilitate young people's success.
The level of esteem in which Kylie is held by Aboriginal communities, her colleagues and young people attests to Kylie's integrity, and to the high value she places on behaving honestly and ethically in both her personal and professional life. An inspiration to everyone at St John's Youth Services, Kylie treats everyone she meets with kindness and respect, and positively and compassionately engages with vulnerable young people who are doing it tough.
Kylie's work in the wider community has contributed significantly to strengthening St John's Youth Services' reputation as a safe and culturally respectful organisation. This has enabled St John's Youth Services to work more sensitively, respectfully and effectively with Aboriginal young people, in partnership with the wider Aboriginal community.
Kylie Wanganeen is an exceptional role-model for Aboriginal young people, and a passionate
and persuasive advocate for the importance of Aboriginal young people connecting with and
celebrating their culture.